As an igneous stone, granite is tough, resistant, and durable. Despite being porous, it is not that soft. That is why many homeowners prefer this natural beauty in their homes. Well, granite countertops are the best choice for both kitchens and bathrooms. In addition, they are applicable in other areas as well. 
Moreover, certain things can cause damage to their surface. For that reason, granite requires a quality seal after installation. Also, it is vital to protect it from stains, spills, and acidic reactions. In particular, you pay a good amount of money for natural stones like granite. But, they come with some requirements.
We have gathered a list of some common errors that we make with granite countertops. So, you can avoid those things to make them last much longer than you think. If you want to retain the natural beauty of granite, avoid the errors below:
Placing raw meat on the counter

Putting hot pans 

Direct cutting on the slab

Acidic spills-lemon

Heavy items on 

granite countertops

 

Using harsh soap for cleaning

Keeping oil bottles on the slab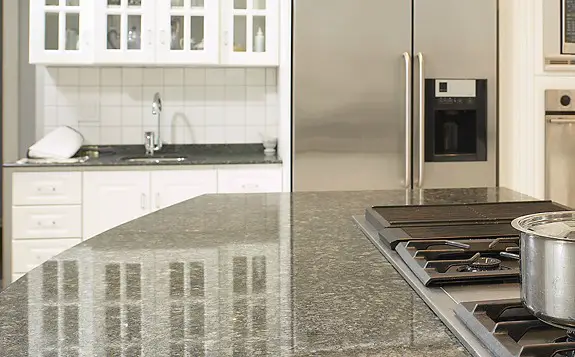 Placing raw meat on the counter:
You must be wondering how to keep raw meat away from the granite top. Well, the thing is that raw meat will not damage its surface. But, placing wet meat is a mistake. The reason is that both fresh and frozen meat has bacterial growth in it. So, it might react to a natural stone like granite. 
That is why it is essential to seal its top to avoid any reaction. As bacteria tend to grow on such surfaces, be careful with raw meat. Well, it is more about your hygiene than only about looks.
No doubt, granite is strong enough to resist heat. Also, putting a hotpot on its top is fine. But, do not place hot pans straight from the stone on its surface. And even if you have it sealed, it will damage its coating. The reason is that direct heat is not suitable for natural stones. That is why it is wise to keep hot objects away from granite slabs. 
Direct cutting on the slab:
Due to their smooth looks, the counters might seem like the perfect area to chop your food. Unfortunately, the surfaces are prone to chips, cuts, and scratches. As a result, they can dull them. So, when you cut directly on the surface, you can also affect the knives.
In that case, avoid chopping directly on the granite surfaces to protect your counter and knives, therefore, use a cutting board for veg and raw meat. It makes one solution for two problems. In addition, keep them inside a wooden knife block.
Well, juices, lemons, soft drinks are a must in all the busy kitchens. That is why it is hard to avoid them all the time. But, it is a fact that acidic spills can damage your granite's top surface. In this case, make sure that you pour the juices and lemons next to the sink. In addition, you can use big jars to take out the juice. 
Moreover, these acidic spills can discolor the natural tone of countertops. So, wipe the spills as soon as they happen. And never let them stay on top overnight.
Heavy items on granite countertops:
Despite being harder than some other natural stones, weight can cause some damage. So, it is better to keep heavy items off the granite surface. Also, they can cause chipping around the sink and the edges. When lifting stuff close to the counter, be careful of the edges. 
Using harsh soap for cleaning:
In general, many people use soap near the counter to wash their hands. It is typical to use the same soap for quick counter cleaning. Although, there is no such issue in using soap with milky content. But, make sure the soap is not harsh for the slab. In addition, some chemicals can damage the topcoat of your granite slab. That is why it is good to keep such harsh soaps away from counters, and they might not be healthy for your skin too.
Keeping oil bottles on the slab:
Well, it is a usual thing to keep cooking oil near the stove or the counter. Most people have oil bottles. But, you should know that oil content sticks to the surface of every countertop. Also, you must be using warm water to wipe the oily area. 
Somehow the oil sticks to the slab and damages the seal. Also, it will leave ugly marks/stains on the surface. That is why it is much better to keep the oil bottle in the upper cabinets or open shelves. 
Also read: HOW TO CHOOSE COLORS FOR KITCHEN FLOOR TILES?
Conclusion:
It is natural to have some areas of caution for most stones. In this case, granite countertops are strong enough to deal with rough use. But some minor errors can steal its natural charm. So, keep raw meat, cooking oil, and acidic spills away from its top surface. Also, use a cutting board to avoid scratches. In the same way, do not place or drag heavy items near it. Well, I recommend Silver marble granite for quality counters with a sealed top.