The cabinetry is the most important design element in any kitchen makeover though its primary function is to provide storages for your kitchen essentials. But with so many alternatives available and covetable colour possibilities, choosing style and colour may be overwhelming. To take some of the confusion out of the equation, here's a quick review on the most prevalent kitchen cabinet styles available in the market. In addition, we'll share the best complementary colours to help build a faultless kitchen a little bit simpler.
1. Traditional:
The most formal style of cabinetry, known as traditional, is often embellished with components that are intricately carved and takes its cues from the golden age. Elevated panels and arched edges are two of the most prevalent architectural elements seen on the doors. Traditional cabinets are often crafted from wood with a dark finish, and their carved details sometimes have an antiqued or glazed appearance. Cabinets with a traditional style give the impression that your kitchen is rather old.
2. Shaker:
Cabinets for kitchens that are made in the Shaker style are the most versatile in terms of design. The members of the Shaker religious order moved to the American colonies in the 1780s and quickly became famous for the simple, practical, and ingenious architecture that they created, including the now-famous peg rail. As a result of their straightforward frame and panel construction, these cabinets are equally installable in a traditional as well as contemporary kitchen setup.
Shaker cabinets feature a door that is made up of five panels and a frame that is made up of four pieces. In the centre of the door is a flat panel. These cabinets are traditionally constructed from wood of the highest quality from the United States, but these days they may be painted to seem like practically any hue under the sun. For a look that is more modern, some homeowners may paint the upper cabinets one colour, and then use a paint or stain that contrasts with the colour of the wood on the bottom cabinets.
3. Modern:
Modern kitchen cabinets are the most basic of all types. Doors are often flat panels with a complete overlay and little to no moulding or trim, creating a clean appearance. This kind of cabinetry is commonly made from naturally pigmented wood with little grain, such as maple.
The most common colours for painting span from deep blues to black, white, and grey, although practically any hue will work. A modern kitchen may easily accommodate bright yellow or orange, and cabinetry can be coated in high gloss or lacquered for an ultra-sleek look.
4. Slab Cabinet Doors:
Slab kitchen cabinet door is likely to come to mind when envisioning a sleek, modern kitchen. Often known as flat panel cabinets, this type of kitchen cabinets is manufactured from a single, smooth piece of wood, plywood, or MDF. Flat panels come in various finishes and veneers, including glossy white, grey, or coloured lacquer and natural wood tones. The plain cabinet front provides a clean backdrop for statement hardware or seems sophisticated with no visible hardware.
Flat-panel kitchen cabinets are frequently linked with a stark, minimalist aesthetic, although it is not their sole appearance. This minimalist-style cabinet can be warmed up with other colours or wood treatments. They are easier to maintain clean than other cabinet types since there are no details or crevices to trap dust or cooking oil.
5. Country or Farmhouse Style:
Kitchen cabinets for Country and farmhouses are the same things, offering a more relaxed take on classic cabinetry. More relaxed materials such as beadboard, shiplap, tin metal, repurposed wood, and even glass doors or open shelves are sometimes included to reinforce that pleasant vibe.
Country or farmhouse cabinets are nearly usually painted, and the most popular colour is white, although other colours, including yellow, red, charcoal grey, and black, are also becoming more fashionable. There may be some colour and cabinet-type mixing and matching throughout the area, but the overarching colour theme is driven by casual comfort.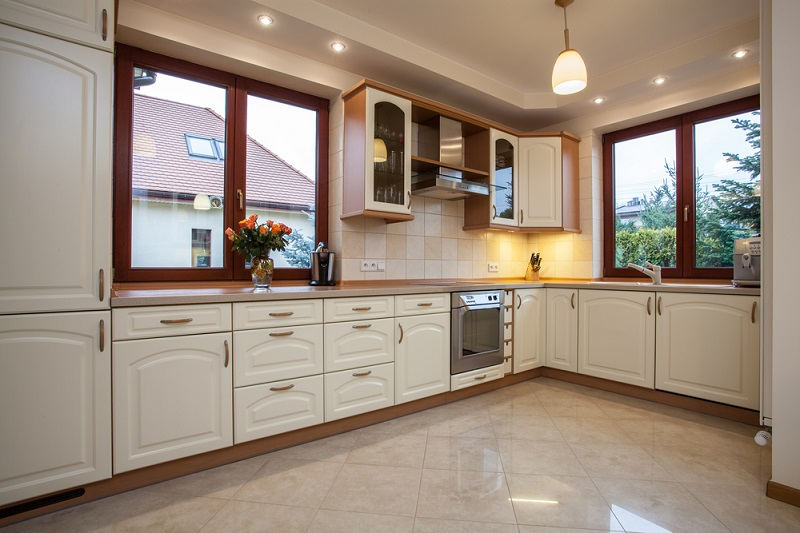 Conclusion
Art has always been and will always be a décor mainstay. It elicits emotion, produces energy, and instantly personalizes a location. Art in the kitchen has also been a trend over the years, but there has been a noticeable shift in recent days. People who are tired of ultra-minimalist aesthetics and immaculate layouts are embracing the drama that vintage-style oil paintings can bring to a place. Consider whirling colour landscapes and austere portraits in rich, gilt frames. But one thing is obvious kitchen cabinets have made our home more attractive in looks.