A lot of people prefer top-load washing machines to front-loading models because of their ease of usage and quick wash cycles. But with so many brands offering top-load washing machines, it can be difficult for a customer to choose one model.
Here are the 6 best top-loading washing machines we've handpicked that you can consider buying for your modern home.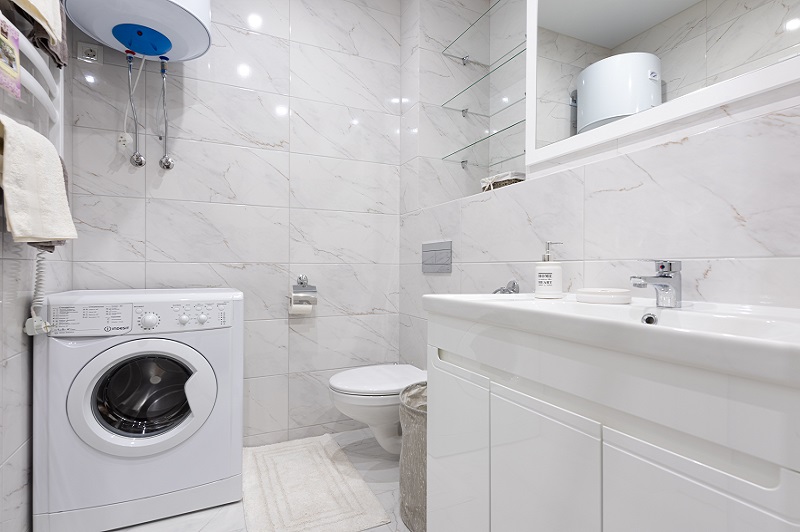 Fully Automatic Top Load Samsung 7 kg 5 Star Inverter with Diamond Drum (WA70T4262GS/TL)
This Samsung washing machine comes with a wash capacity of 7 kg that fits families of all sizes. The washing machine implements the innovative Digital Inverter technology that optimizes the power consumption of the machine to help you save money.
This machine ensures a powerful wash due to its efficient filtration process that gets rid of all the grain and sand. It also features the unique Wobble technology that handles your clothes gently while washing them. The trademark Diamond Drum further ensures the delicate handling of your fabrics because of the ideally designed ridges within the drum.
LG 6.5 kg top load inverter with full automatic operation (T65SKSF4Z)
With a 5-star energy rating, this LG star inverter model is an extremely energy-efficient washing machine. The washing machine's Smart Inverter motor senses the load and the state of operation to adjust the power consumption. Thus, the best washing machine is able to conserve energy when necessary.
The washer also delivers great performance with its quality washes. The Turbo Drum is equipped with a powerful pulsator that produces a dynamic water system. Such a forceful stream of water successfully eliminates all the oil, grease and dirt from the clothes.
Haier 6.5 kg 5 star Ariel Wash Fully Automatic Top Load Brown, Grey (HWM65-FE)
Give your clothes quick and efficient washes with this Haier fully automatic top-load washing machine. The machine has an innovative washing drum that produces a strong stream of water to remove the most stubborn stains.
Furthermore, it comes with 8 different wash modes like Rinse, Wash, Soak, Delicate and others — each of which is great for different requirements of yours.
The machine also implements Fuzzy Logic to determine the amount of dirt that your clothes contain. This helps it to choose the right mode of operation that will provide the best wash results. Lastly, the washer is also highly energy-efficient, as is proven by its 5-star rating.
Fully Automatic Top Load with Inbuilt Heater fully automatic washer by Whirlpool (Stainwash Ultra (N) 6.5 Grey 10 YMW) 6.5 kg

This top-load washing machine from Whirlpool is designed to take proper care of all sorts of fabrics — from beddings and curtains to woollens and linens. The model has 12 unique wash programs that you can select from, each of which is specialized for a certain kind of a wash. It also has a Stainwash Program that guarantees to eliminate tough stains that are as old as 48 hours.
Furthermore, the in-built heater provides the perfect environment for the hot tub water to keep all the bacteria and viruses away. Overall, this top-load washing machine is one of the most efficient machines in the market right now.
Samsung 6.2 kg with Monsoon Feature Fully Automatic Top Load Grey (WA62M4100HY/TL 01)
With its load capacity of 6.2 kg, this Samsung washing machine is a perfect reliable option for families to wash their clothes. The machine gives you the convenience to choose from pre-set wash modes that take utmost care of all your clothes. The washing drum consists of 6 blades that ensure top-notch cleaning of your clothes.
Furthermore, the powerful Magic Filter collects all the sand, dust and dirt from your clothes to give them an extremely fresh look after every wash cycle. Finally, the Eco Tub Clean technologically automatically cleans your washtub. Hence, you don't have to take the extra effort to clean your washing machine.
3D wash, triadic pulsator, inbuilt wheels, Smart Sense Fully Automatic Top Load Grey (TL RGS 7.0 Kg Aqua).

Ideal to serve big families, this 7 kg IFB washing machine is a must-buy! With its speedy triadic pulsator, the washer can provide powerful washes within very little time. Its 3D washing technology circulates the water in a 360-degree fashion to clean the clothes appropriately. In spite of its powerful washes, the washing machine does handle fabrics like linen gently. Its crescent moon drum acts as a cushion that protects the fabrics from any damage.
You can now divide the price of your favourite washing machine into affordable monthly EMIs. By shopping at the Bajaj Finserv EMI Store, you can buy your favourite home appliances and gadgets on No Cost EMIs. You can log in with your Bajaj Finserv EMI Network Card details and also have access to exclusive offers.